THE RUMBA MADRE
The Latinx, Chicanx, Colombian, Galician, Basque, Nuyorican, Boricua, Spanish, Nashville-based melting pot under the name of The Rumba Madre has been bringing together crowds from all kinds of backgrounds for a few years now. By fusing punk with Rumba, Son, Polka, Flamenco, Salsa, Tango and more, the band seeks to create a unique transnational experience that proves that all boundaries can be challenged. Their wide musical backgrounds and their equally satirical and committed multilingual lyrics break through the traditional standards of Latin music(s) to provide today's multicultural and globalized world with an up-to-date soundtrack. The band finished recording their first album, Prisiones y Fugas, in early 2020, under the experienced guidance of multi-GRAMMY winning producer / engineer Iván Gutiérrez Carrasquillo (Cultura Profética, Calle 13) and will be releasing various singles in the upcoming months. Other people that also collaborated in the album are Alfredo Espinoza "Mañito Jr" (Pamir Guanchez, "El moreno Michael", etc.), Dominik Gryzbon (Elton John, Iggy Azalea, Zac Brown Band, Ozzy Osbourne), Emilio Ferraro (Cuatro pesos de propina, etc.), Cristine Diez Correa a.k.a. "La Diez" (Zurda Music) and the producer and multi-instrumentalist Kiko Negrón (Kike Pavón, Tony Melendez, etc.) Additionally, also signed on to the team are Diana Rodríguez from Criteria Entertainment (Mon Laferte, Draco Rosa, Bunbury), Andy Averbuch (Kokolo, Joe Bataan, Flor de Toloache), and Mireya Ramos (Flor de Toloache). Overall, Prisiones y fugas showcases a very unique fusion that relies strongly on the rich traditions of the Americas and the Iberian Peninsula but that, at the same time, connects with the most current musical trends of, for instance, Trap or Reggaeton, just to name a few.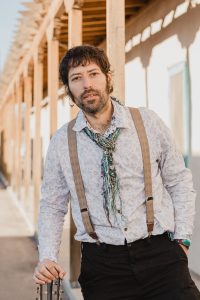 David Vila (guitar, cuban tres, vocals), a.k.a. "el gallego" was born into a Galician family in the Basque Country, northern Spain. There he explored the dark paths of blues, rock, punk, and even metal music, until he moved to England to pursue new challenges. In London, he met a bunch of Spanish gypsies with whom he entered the even darker world of flamenco, and he developed an incontrollable passion for the rumba style. After a few years wandering around Beatleland, he decided to move to the US — more specifically, to Nashville. There, surrounded by burgers, sweet tea, and other wonderful US delicacies, he found his home within the Nashville Latino community. As a result, he started playing all sorts of Latin music, focusing especially on any style that involved the Cuban tres. After various projects that didn't seem to take off, one day, he met the other members of The Rumba Madre and they decided to create a new project together. Ladies and gentlemen, thanks for your attention and do not hesitate to give "el gallego" a shout should you need anything.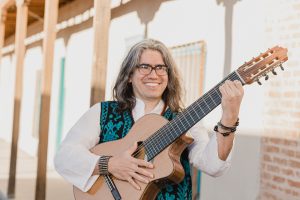 Rubén Darío Gómez (vocals and guitar), "el pulpo", shares his name with the famous Nicaraguan poet and, maybe, it is for that reason that his songs are always so full of passion. "El pulpo" is a "payo" in love with his guitar and popular traditions and, since he has always felt gypsy at heart, he started travelling around the world from a very early age. He left Bucaramanga—his hometown in Colombia, also known as "the beautiful city," to pursue a professional musical career. He wandered around the south cone meeting with traditional musicians and street performers and learning from them their specific regional styles. His tentacles have enabled him to develop as a solo artist as well as a member of different bands and musical styles: classical guitar, chamber music, Latin-American music, experimental, avant-garde, rumba, pop and rock. Now, this gypsy soul wants to park his carriage and step on the caravan that will take you to The Rumba Madre.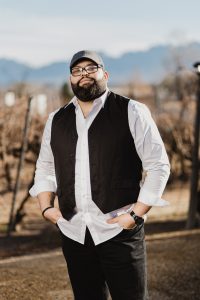 Benjamín Alexander (bass & BVs), "el Boricua" as his friends call him, was born in the Bronx but he spent most of his life in Puerto Rico, a.k.a., "the island of enchantment". He was born into a musical family and, among his main influences, he highlights that of his dad, Ramón Alejandro, Puerto Rican folk singer and specialist in música jíbara. In the island, he played in different bomba and plena ensembles as well as in salsa and merengue bands. You will recognize him for his awesome tumbao and his mesmerizing dance moves. In The Rumba Madre he is in charge of playing the bass and singing backing vocals while he tries to emulate his beloved Ismael Rivera. He loves the fusion of styles and when he first heard the guitarists of The Rumba Madre he knew that what the band needed was a Caribbean bass player like himself to add an extra flavor to the band. If, by any chance, you see him after a gig, invite him to a shot of Puerto Rican pitorro. He will thank you forever.