THE RUMBA MADRE
The Rumba Madre is an opportunity, a chance, the unlikely coincidence of musicians with very different backgrounds to meet unexpectedly in Nashville, Tennessee (USA). Each member comes from a different corner of the world, but they all agree on one basic idea: Making music is a liberating act, and that a band is the fusion of all the characters each member brings to the table. Firm on this idea, in 2019 they started working on their first album. Rehearsal after rehearsal, show after show, song after song, their sound developed into what we can now hear: a fusion of Rumba, Son, timba, Salsa, Tango — the list is never-ending. The goal of the band is neither to win nine Grammys nor to buy a huge mansion in Miami. Our world today needs more vitality, more humanism, and The Rumba Madre wants to send a message of diversity and fun. The band's only goal is that you — yes, you, reading these lines — find in their songs a way to feel happy and alive.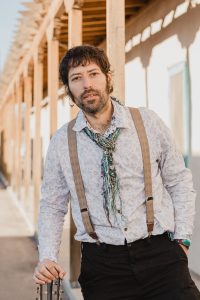 David Vila (guitar, cuban tres, vocals), a.k.a. "el gallego" was born into a Galician family in the Basque Country, northern Spain. There he explored the dark paths of blues, rock, punk, and even metal music, until he moved to England to pursue new challenges. In London, he met a bunch of Spanish gypsies with whom he entered the even darker world of flamenco, and he developed an incontrollable passion for the rumba style. After a few years wandering around Beatleland, he decided to move to the US — more specifically, to Nashville. There, surrounded by burgers, sweet tea, and other wonderful US delicacies, he found his home within the Nashville Latino community. As a result, he started playing all sorts of Latin music, focusing especially on any style that involved the Cuban tres. After various projects that didn't seem to take off, one day, he met the other members of The Rumba Madre and they decided to create a new project together. Ladies and gentlemen, thanks for your attention and do not hesitate to give "el gallego" a shout should you need anything.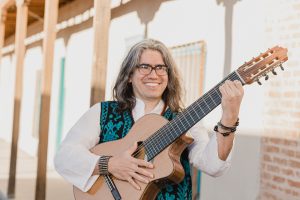 Rubén Darío Gómez (vocals and guitar), "el pulpo", shares his name with the famous Nicaraguan poet and, maybe, it is for that reason that his songs are always so full of passion. "El pulpo" is a "payo" in love with his guitar and popular traditions and, since he has always felt gypsy at heart, he started travelling around the world from a very early age. He left Bucaramanga—his hometown in Colombia, also known as "the beautiful city," to pursue a professional musical career. He wandered around the south cone meeting with traditional musicians and street performers and learning from them their specific regional styles. His tentacles have enabled him to develop as a solo artist as well as a member of different bands and musical styles: classical guitar, chamber music, Latin-American music, experimental, avant-garde, rumba, pop and rock. Now, this gypsy soul wants to park his carriage and step on the caravan that will take you to The Rumba Madre.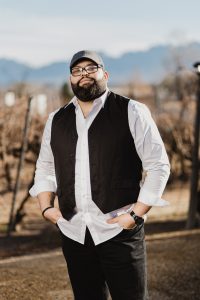 Benjamín Alexander (bass & BVs), "el Boricua" as his friends call him, was born in the Bronx but he spent most of his life in Puerto Rico, a.k.a., "the island of enchantment". He was born into a musical family and, among his main influences, he highlights that of his dad, Ramón Alexander, Puerto Rican folk singer and specialist in música jíbara. In the island, he played in different bomba and plena ensembles as well as in salsa and merengue bands. You will recognize him for his awesome tumbao and his mesmerizing dance moves. In The Rumba Madre he is in charge of playing the bass and singing backing vocals while he tries to emulate his beloved Ismael Rivera. He loves the fusion of styles and when he first heard the guitarists of The Rumba Madre he knew that what the band needed was a Caribbean bass player like himself to add an extra flavor to the band. If, by any chance, you see him after a gig, invite him to a shot of Puerto Rican pitorro. He will thank you forever.
Shows
September 22: Pilgrimage Music Festival After Party at Kimbro's
Kimbro's Pickin' Parlor, 11:30 p.m.

September 22: Pilgrimage Music & Cultural Festival 2018
The Park at Harlinsdale, Millville Stage, 3:20 p.m.
Tickets: https://pilgrimagefestival.com/tickets

September 16: Howl at the Moon Indie Music Festival 2018
Two Rivers Mansion, 3:00 p.m.
Tickets: https://howlatthemoonfestival.ticketleap.com/howl-at-the-moon-indie-music-festival/t/HATMrumba/